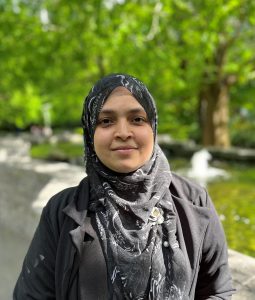 Naila Salim, embarked on a two year chaplaincy training programme with the Canary Wharf Chaplaincy Team in Feb 2021.
She joined the chaplaincy team after completing a certificate in Muslim Chaplaincy at Markfield Muslim Institute of Higher Education. During her time on the chaplaincy training programme, the team will help develop and broaden her experience of working within a Multifaith team. As part of her training programme she will also undertake placements within other chaplaincy sectors.
In her spare time, she is a scout leader, she loves reading crime fiction and her favourite spot in Canary Wharf is the Crossrail roof top garden.