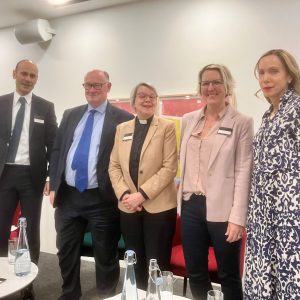 In conversation with Fiona who reports on the latest in the Ethics Series of annual panel conversations.
Recently the chaplaincy enjoyed their involvement in the planning and participation of the latest Ethics Series event, in partnership with HSBC, Barclays, EY, Credit Suisse, Deutsche Bank, Citi, and hosts Clifford Chance. Carlos Conceicao (Partner, Contentious Regulatory at Clifford Chance), Sir Douglas Flint (Chairman of abrdn and IP Group), Hana Searson (Global Head of Culture Change at Citi), and Susan Liautaud (Chair of Council at LSE) made up our distinguished panel engaging the considerable audience with their discussion of the theme, 'Can Culture Survive in Times of Turmoil?'
Carlos skilfully chaired the informative and wide ranging discussion, With Susan exploring where we are now and, in particular, what the current threats to an ethical culture look like. Sir Douglas made the point that he does not like the word culture and went on to explain why. Hana followed this up making the points about embedding the right behaviours and describing her research in this area. As the conversation progressed is went on explore how power structures can be potential barriers to a strong ethical culture, the role of Whistleblowing, and the responsibilities on individuals within a firm with a strong ethical culture.
To watch the full conversation please follow the link.
Video recording: Ethics Series – Can culture survive in times of turmoil?
The Chaplaincy is grateful to all the companies who continue in the participation of the planning and helping to make these of these annual panel conversations actual happen.