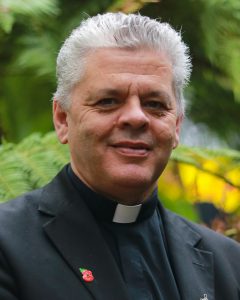 Wayne O'Reilly as a member of the Canary Wharf Multifaith Chaplaincy team supports the broader chaplaincy team as a Catholic Chaplain.
He is a permanent Deacon and he studied at Wonersh Seminary and St Mary's University for 5 years as part of his formation gaining a degree in Pastoral Ministry and Theology, as well as a Diploma in Catholic Social Justice, which is a special interest of his. He is also responsible for all the Sacramental courses within his own parish in Fulham, as well as training new Deacons at St Mary's university how to serve at mass.
Wayne is married with six daughters, and yes Catholic Deacons can be married! He loves sports especially his beloved QPR! He also really enjoys going on long walks with his wife and his two dogs Toffee and Fudge. "I use the dogs as an excuse sometimes to escape my busy home life and to get some reflective time to myself"
"To me the role of chaplain is to assist anyone-no matter what the specifics of their life circumstances may be-to be all they can be in body, mind and spirit. If I can make that difference to just one person then my role as a chaplain will be a success".
I am in the Wharf 1 day a week.
You are able to contact me by phone, Mobile:07791 202017 or Email