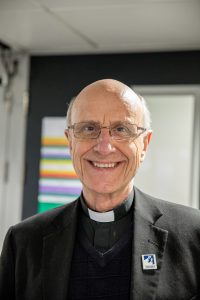 Vladimir (or "Vlad") is the Canary Wharf Multifaith Chaplaincy's dedicated Catholic Chaplain for professional workers on the Estate.
In addition to his work with the Multifaith Chaplaincy, Vlad is Catholic Chaplain for sport, CEO of The John Paul II Foundation for Sport (which he launched in 2011) and is a trustee of The Passage, CaAPA and Genesis. A social entrepreneur, Vlad founded and directed two different pilgrimages to Lourdes and founded the Spiritual Peer Educational Centres SPEC, LOFT and SPECeast.  He supports anyone who asks for help and in particular helps Catholics.
Vladimir was born in Prague in 1939 and came to London at the end of World War II. He studied Civil Engineering at Imperial College London and received his Doctorate in Divinity (summa cum laude) from Lateran University in Rome.
Vlad has led retreats, lectured and spiritually guided people ever since his priestly ordination in 1969. He speaks English, Czech, Spanish, Italian, French and Latin. He enjoys friendship,  prayer and writing. He keeps as fit as possible and does press-ups daily to the total of each year of his life since conception.