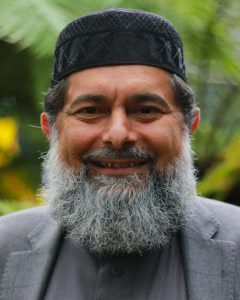 Ibrahim serves as the Muslim chaplain at the Canary Wharf Multifaith Chaplaincy. In his role, he supports the broader Chaplaincy team offering pastoral care to all who are working on the Canary Wharf estate as well as Muslims.
Ibrahim has been involved in chaplaincy and the training of Muslim chaplains for more than 15 years. During this time, he has also served as the student mentor and chaplain to the Cambridge Muslim College and the Ebrahim College in East London. He volunteers his time serving as a community imam in Leicester and sits on the University of Leicester's World Faiths Advisory Group. He also mentors the Muslim Chaplain at De Montfort University in Leicester.
Ibrahim was born in Malawi to Indian parents and migrated to the UK in 1984. He is married with four sons.
Ibrahim completed his seminary studies in 1990 and has been involved in religious service ever since. He is a national council member of the Muslim Council of Britain, co-chair of the Christian Muslim Forum and a member of Religions for Peace UK and the European Council of Religious Leaders. Ibrahim has contributed to GCSE Religious Studies textbooks and delivers lectures regularly in the UK and abroad.
In his spare time Ibrahim enjoys watching sports – particularly football, cricket, boxing and Formula 1 racing.  He also enjoys DIY and keeps tropical fish.
"Being part of the Chaplaincy team has enriched me enormously. I do it because I believe all of humanity is God's family. I hope I can make a positive difference to the lives of people who work on the Estate."
I am in the Wharf 2 days a week.
You are able to contact me by phone, Mobile 07711 621007 or Email