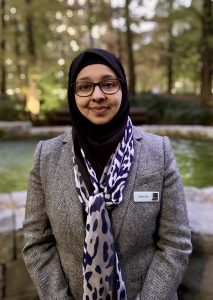 Saleha recently joined Canary Wharf Multifaith Chaplaincy as a Muslim chaplain working alongside Ibrahim.
She began my Islamic seminary course in 2012. Having spent six years studying theology and Islamic sciences, she felt there was something missing and she felt like she needed to reconnect with society. She broadened her skills through the  Christian-Muslim summer school in Oxford where she was able to build a relationship with people of other faiths.
She began her chaplaincy journey with NHS as a chaplain at the Royal London Hospital. In 2018 I visited the Canary Wharf Chaplaincy and it really sparked off my interest and eventually  and began as a  volunteer  with the retail chaplaincy. Given her immense experience we are delighted that she agreed to become a Muslim Chaplain on the main chaplaincy team.
In her spare time she enjoys –