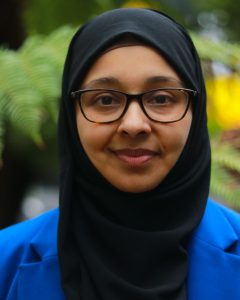 Saleha is a member of the Multi Faith Chaplaincy team at Canary Wharf. She supports the broader Chaplaincy team as one of the Muslim Chaplains. She has previously trained and worked as a Muslim Chaplain with the Bart's Health NHS trust.
She is a Sharia graduate from Ebrahim College where she completed her seminary studies as a mature student. She then went on to further specialise in the Prophetic traditions. She has a BSc Hons in Computing studies and is currently studying for a master's degree.
In addition, she works as a Sharia council adviser with independent organisations specialising in Islamic law. She has been an instructor in Islamic studies for over eight years and currently teaches and provides pastoral care for adults at Q-Iman and Ebrahim College. She also works with Mawarid Lifestyle as a Mentor for the youth. She appreciates serving as a judge for the National Huffadh Association UK's annual Quran competition, which gives youngsters the chance to compete and showcase their recitation skills. She appears as a guest and host on IQRA TV and TV One, where she welcomes the discussions around faith.
Saleha likes travelling with her family and learning about different cultures and cuisines. She is married with two boys and lives in North London. Her life motto is "Obstacles are what you see when you take your eyes off the goal", and so she likes to help people keep their eyes on the goal.
"There are moments in life when we feel like we're sitting on the edge, and all we need sometimes is a smile, a kind word or simply to know that someone cares. As chaplains we let others know that we care. We care regardless of race, religion, gender, sexual orientation, or any other differences and that's why we're here to listen to you. If I can make a difference to someone, however small it maybe then my job is worthwhile."
I am in the Wharf 2 days a week.
You are able to contact me by phone 020 7477 1073 or email